lun, 01/31/2011 - 22:12
INTERVIEW BOOGIE ! / ALL-CITY DUBLIN - label //
On lui doit la plus belle série consacrée au hip-hop/electro de Los Angeles, les « L.A Series ». Et pourtant, All City est un label basé à Dublin, Irlande.
Interview avec Olan, DJ et fondateur. Là, maintenant, tout de suite. Entre Los Angeles beat, street-art, commerce de disques vinyl, et histoires de matelas.
[english version at the bottom]
NR // Au départ, All City était un magasin de disques. Pourquoi avoir créé un label ?
Olan - All City // Parce que c'était l'idée de départ! Dès l'ouverture du magasin (10 ans cette année) on s'est dit qu'on allait y ajouter un label. Quand on connait les rouages de la distribution des musiques indépendantes, c'est assez logique en fait. Mais Dublin n'étant pas la capitale mondiale de la musique, ça a pris un peu de temps. D'autant que produire de la musique est une activité qui coûte cher.
// vous êtes basés à Dublin, pourtant vous avez décidé de produire de la musique de Los Angeles. Pourquoi?
// L'idée m'est venue de mes allers-retours là-bas. Ca fait un bout de temps que je vais à Los Angeles pour sa musique, mais j'ai jamais pu faire le tour de tous les producteurs tellement il y en a ! J'ai juste pensé que ce serait bien de contextualiser un peu l'extraordinaire vitalité de cette scène. Avec un regard extérieur. Comme prendre une photo de ce qui se passe là-bas, à un moment donné, en l'occurrence: maintenant.
// au-delà de la musique elle-même, l'objet « L.A series » est plutôt inhabituel. 10 disques au format 10 pouces, 20 producteurs en tout et mis bout a bout, une espèce d'encyclopédie en temps réel quelque part entre musique et art urbain – je parle des pochettes. …

// … je pense qu'on vit aujourd'hui les derniers jours du vinyle, donc il est important d'apporter quelque chose d'original en plus pour que les gens achètent des disques ! On a fait appel pour les pochettes au photographe B+. C'est un photographe irlandais, qui vit à Los Angeles depuis 1990. Ce type est une légende. Il a réalisé les pochettes de rappeurs comme Easy E [NDR : membre du groupe fondateur du rap west-coast NWA aux côtés de Dr Dre et d'Ice Cube], DJ Shadow et d'autres… il a travaillé avec tout le monde là-bas, donc on se devait de l'avoir pour réaliser les pochettes d'une série consacrée à Los Angeles. Chaque photo contient un matelas [NDR : non, je n'avais pas remarqué, c'est excellent], et chacune d'entre-elle, chaque disque, figure un bout de rue, de ciel, un palmier, un quartier ou une atmosphère différente...
// pause //
extrait - Teebs, Anchor Steam, L.A Series vol. 6

pochette du volume 4 des "L.A series". photo by B+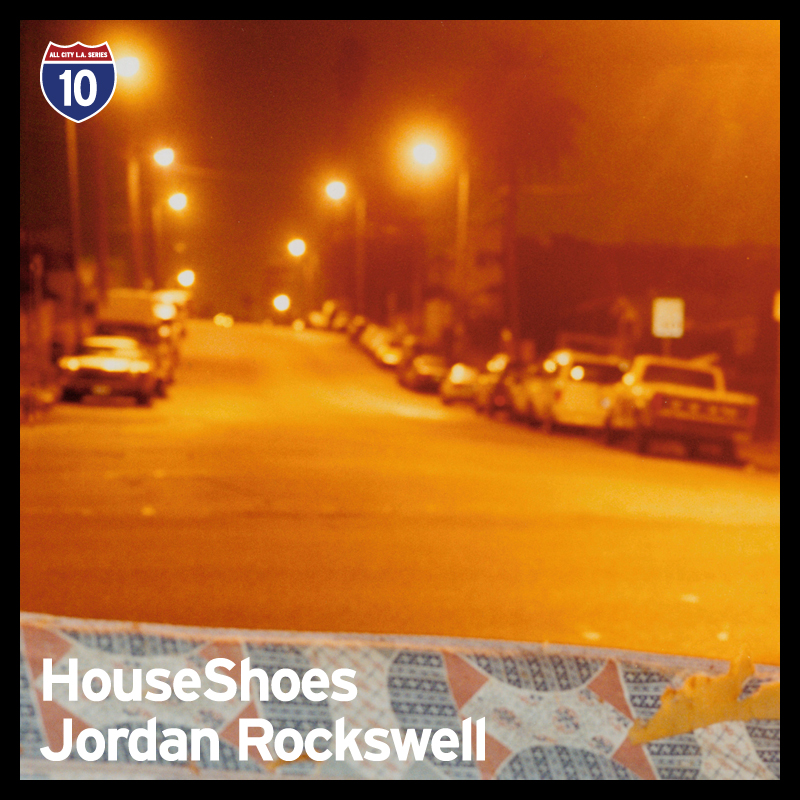 // on vit les derniers jours du disque vinyle, vraiment ?
// Quand je dis ça je ne prédis pas le futur évidemment… en tant qu'acheteur moi-même, et vendeur de disques j'espère pouvoir en presser, en jouer, en vendre et en acheter aussi longtemps que possible… mais ça devient difficile… les jeunes qui ont aujourd'hui 12 ou 13 ans et qui sont habitués à télécharger de ma musique pour rien, pourquoi se mettraient ils soudain à payer 9 ou 10 euros pour un seul disque 33 tours ? Pour ne parler que de notre magasin je sais qu'on vend toujours plus de vinyles que de mp3, mais sans ces ventes de musique numérique, on ne pourrait pas produire de disques. Cela dit je ne vais pas aller dans la dénonciation déjà entendue du téléchargement illégal blablabla. C'est juste qu'il faudrait arriver à garder les magasins en vie.
// Qu'est-ce qu'on peut attendre de la part d'All City pour 2011 ?

// On est en train de terminer les deux derniers volumes de la série Los Angeles, et puisqu'on en parlait, on pense même faire un onzième disque « bonus » ! Sinon on démarre une série de 33 tours, dans laquelle deux producteurs collaborent sur chaque disque. Pas de restrictions de style ou de tempos, on veut qu'ils fassent ce qu'ils veulent. Le premier vient de sortir, une collaboration entre l'anglais Martyn et notre compatriote à nous Mike Slott.... http://www.allcityrecordlabel.com/releases/martyn-mike-slott-collabs-1-acc12x12x1
Pour écouter/achter/kiffer/aller plus loin :
Site officiel All City : http://www.allcityrecordlabel.com/
Page soundcloud : http://soundcloud.com/allcitydublin
-
say wrd.
fly b /
[english version]
The most-brillant series of music from Los Angeles? We do need to thank an Ireland-based record company. Let's talk with All City Dublin cofounder and DJ Olan, right here, right now.
NR// at first, All City was a store. Why did you decide to back it up with a music production company/label?
// Yeh, we're 10 years old as a shop this year, but the label is only kicking properly for the last 3 really. Two of us started the shop and we always expected it would be a logical progression to run a label - when you see how the distribution chain works it makes it a possibility. As we're based in Dublin - hardly a musical metropolis - it took a little longer to get going than I had hoped! Its also a very expensive business releasing records so it took a while to have the money right!!

// you're Dublin based. but you have decided to produce 10 volumes of contemporary beat music from Los Angeles, CA. Why? How did that happen?
// yes we are..well the LA thing came about from my trips there and an extension of the 7x7 Beat series we did in 2008..I had been going on record trips to LA for a while and I couldnt really get my head around the sheer amount of producers and
all the energy in the greater LA area. I just thought it would be cool to contextualise it a bit - a snapshot of a certain moment in time. Not that people from LA need a Dublin label to do this, they are more than capable of it themselves! but
i just thought its an outsiders view..as I got to meet more and more people over there and then producers pass through Europe and you meet them so it just took on a life of its own..

// About this very L.A series, what's the idea behind this 10-volumes unsual 10" design/packaging? Is it like a crossover between music, design, vinyl, encyclopedia and urban art?...
// I think in this day and age..perhaps the last days of vinyl you really need to have a decent design in order to get people to buy it! Plus they are part of a series which is supposed to reflect something of the LA musical underground. B+ is an Irish photographer who moved to LA in 1990 I think and he is an absolute legend ! He's done everything from Easy E covers to DJ Shadow ones - he's seen it all so we had to get him on the cover vibe. These pictures all contain mattresses, which you may or may not have noticed and we're on a little journey around LA through them!
// "the last days of vinyls" – could you explain this one? I mean, as a record dealer, are you seeing people buying more CDs or MP3 than vinyl music?
// When I say that I mean I cant predict the future and as buyer and seller of records I hope to press them, play them and sell them for as long as I can but it is extremely tough and I would imagine that the kids of today – kids who are 12 / 13 now who have grown and will continue to grow up with free music, how will they ever get into the habit of paying 9/10 euros for a single 12"? In terms of us – its hard to gauge a %, I should probably spend more time on doing that ! But our vinyl sales are healthy and revenue wise still way exceed digital. Revenue wise it is 2: 1 in favour of vinyl but the digital keeps us afloat! Obviously it can be a bit boring going on about declining record sales and illegal downloads as we've all heard it before! The main thing is that the record distribution model stays alive.

// what can we expect from All City Dublin for 2011?
// Well we're just finishing off the LA series - another 2 plus maybe a bonus to go! We are starting off a new series of 12 inches. Its a collaborative series of 12s - 2 producers on each one..and we want it to go across as many different tempos and frequencies as we can. First one is out in 2 weeks Mike Slott & Martyn – check it out here!!
http://www.allcityrecordlabel.com/releases/martyn-mike-slott-collabs-1-acc12x12x1
We have a few other bits coming..but just wait and see! there will be plenty!!


Comments or opinions expressed on this blog are those of the individual contributors only, and do not necessarily represent the views of FRANCE 24. The content on this blog is provided on an "as-is" basis. FRANCE 24 is not liable for any damages whatsoever arising out of the content or use of this blog.